An unashamedly bitter, sharp and biting satirical attack on the American dream…pulls no punches
In RIGHTEOUS MONEY, a financial advice show hosted by a foul-mouthed, unapologetic billionaire goes increasingly pear-shaped. What starts as a promo for his new book, "Buy The Recession," takes a downward spiral as the host comes out, loses his mind, and tries to justify his wealth to an increasingly angry public. It is a hilarious and bitter allegory for the collapse of the US economy that asks: How much money can you handle?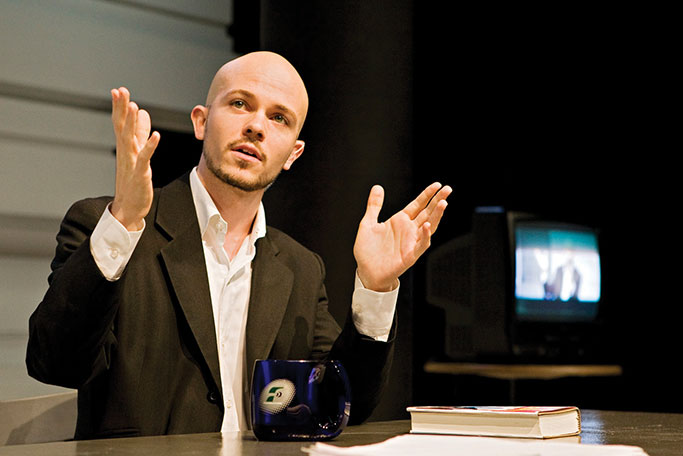 Full of wit and with a fantastic undercurrent of dark humour, Righteous Money has important things to say, both about the financial system we rely on and the values of the society that spawned it.
(the Scotsman)
"An example of that sublime and uncommon marriage of good acting with good material. Written and performed by the excellent Michael Yates Crowley, 'Righteous Money' is an ascerbic social commentary and dark comedy…Having toured several cities around the globe, Crowley and director Michael Rau bring it to New York with polish and style. It is funny, engaging, and right on the money."
—Sloan Rollins, EDGE
★★★★ "Righteous Money is a nasty piece of work… delicious to watch!"
— What's On Stage
★★★★ "An unashamedly bitter, sharp and biting satirical attack on the American dream."

— Fringe Review
★★★★ "Full of wit and with a fantastic undercurrent of dark humour, Righteous Money has important things to say."
— The Scotsman
★★★★ "Brilliantly acted…Michael Rau directs the play with admirable verisimilitude; the piece flies–and pierces–in the real-time space of an hour-long TV show."

— Martin Denton, nytheatre.com
★★★★ "A brief and biting satire"
— The Advocate
★★★★ ""A seductive and poetic tour de force…GO SEE THIS!"
— New York Theater Review

Production Info
Premiere: Ars Nova, New York City (2009)
Theater Bielefeld, Bielefeld, Germany (2010)
Voices of Change Festival,  Berlin Germany (2010)
Pleasance Theatre at the Edinburgh Fringe (2010)
SchlossTheater Moers, Moers Germany (2011)
Project Arts Center, Dublin Ireland (2011)
3LD Performing Arts Center, New York City, (2012)
Ringlokschuppen, Mulheim Germany (2012)

Credits
Written and performed by Michael Yates Crowley
Directed by Michael Rau
Sound and Video Design: Asa Wember